Drie lagen kleurrijke wegwerp tand slabbetje
Disposable Dental Bib is gemaakt van 2-laags weefsel en 1-laags film, wat voorkomt dat er vloeistof doorheen kan slaan. We hebben verschillende kleuren zoals Blauw, Groen, Geel, Roze, Wit, Paars, Oranje, niet-gelaagd, gemakkelijk absorberend, speelt een belangrijke rol tijdens de dagelijkse behandeling . Drie soorten met verschillende formaten geschikt voor verschillende gebruik.
specificaties:
Materiaal: 2 lagen tissuepapier + 1 laags heldere PE-film

Horizontaal reliëfpatroon voor maximale bescherming.

Afmetingen: 33 * 46cm (13 "* 18")

Kleur: wit, geel, roze, groen, blauw, oranje, paars of als verzoek.

Toepassing: gebruikt in het ziekenhuis; tandarts.

Hygiëne en kwaliteit in overeenstemming met CE / FDA / ISO13485.

Verpakking: 125 per verpakking, 4 verpakkingen per ct

n

,

of per verzoek van de klant.

Grootte van het karton: 34 * 25 * 23.5cm

Opslag:

Opgeslagen in droog, vochtigheid onder 80%, geventileerd, niet-corrosief gassenmagazijn

OEM:

Aangepaste Logo / merk gedrukt
Producten foto's: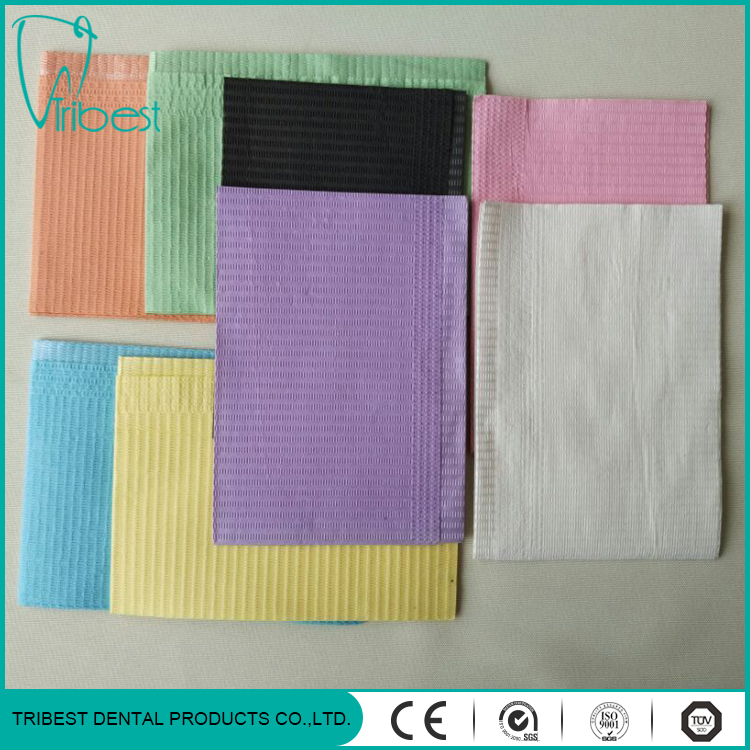 Onze bedrijfsinformatie:
Tribest is een van de grootste fabrikanten en exporteurs van tandheelkundige wegwerpartikelen in China. Het bedrijf werd opgericht in 2006 en de meeste producten zijn CE, ISO 13485, goedgekeurd door het FDA-certificaat.
Onze belangrijkste producten zijn gezichtsmaskers, wattenstaafjes, tandenslab, tandspuiten, tandheelkundige kits, speekseluitwerper, microborstel, afdruklepels, gebitdoos, sterilisatiezakjes, boorblok, desinfectiekist,
producten voor mondgezondheid, orthodontische producten enz.
Tribest Focus on Infection Control-items, en biedt u het volledige schema voor infectiebeheersing met een reeks producten uit de reeks, waarmee u het concept voor infectiebeheersing eenvoudig kunt kennen en kunt genieten van one-stop-producten en -diensten.
Infectiecontrole is de verantwoordelijkheid van TRIBEST en is ook uw verantwoordelijkheid!
Product Categorie : Tandbib